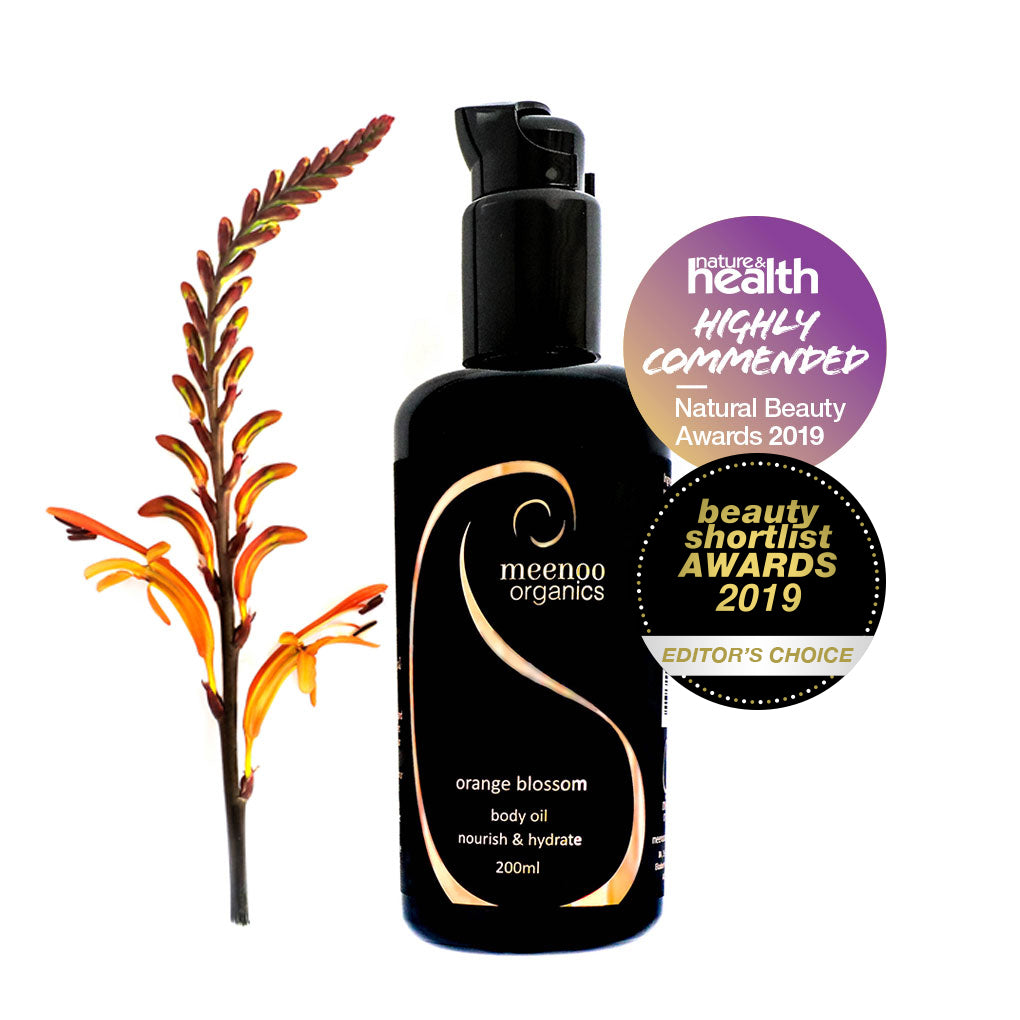 FREE SHIPPING (AUSTRALIA ONLY)
Hydration is the key to beautiful skin. Meenoo Organics Body Oil has been carefully formulated with 100% natural ingredients to assist in nourishing the skin with hydrating, toning and balancing properties. It is the perfect formulation to help reduce scarring or stretch marks, and works well with all skin types. It will leave your skin feeling soft, hydrated and nourished, with a subtle scent of orange blossom.
This product contains macadamia nut oil, jojoba oil, vitamin E, grapeseed oil, and neroli essential oil.
Hydrates, nourishes, tones and regenerates. 
Rapidly absorbed.
Suitable for all skin types. Particularly beneficial for normal to oily skin or during the hot and humid summer months.
Vegan and cruelty free.
100% natural.
200ml.
Best used when skin is a little damp, straight after a bath or shower. Pump the oil into your hands and massage liberally over the body to enliven, hydrate and nourish the skin.
*For external use only. If you are pregnant or breastfeeding, please consult your doctor before commencing use of any product containing essential oils. We recommend testing a small area on your skin first, and in the unlikely event of irritation, discontinue use and see a health care professional. 
Star Ingredients:
Macadamia Nut Oil – A lightweight and easily absorbed oil that won't leave you feeling greasy. The oil contains fatty acids which have anti-inflammatory properties, and it has also been shown to improve the appearance of scars, sunburn, fine lines and other minor skin irritations.
Jojoba Oil – Actually a liquid wax, which is closely reminiscent of our own sebum (a waxy substance produced by our skin glands) – it easily penetrates the skin to restore its elasticity and keep the skin naturally conditioned.
Grapeseed Oil – Perfect for stimulating biological tissues to contract, this oil is ideal for skin tightening and toning. It can help to balance the skin, no matter your skin type. In fact, if you have oily skin this is usually a result of the skin being too dry. This oil will help to effectively moisturize both oily and dry patches without leaving the skin feeling heavy. It has also been shown to restore collagen and reduce scarring.
Vitamin E – A powerful antioxidant which helps keep the skin looking supple and youthful by aiding collagen production.
Orange Blossom Oil – Also known as neroli essential oil, it can help to regenerate skin cells and improve elasticity.
Full Ingredients List:
Macadamia Ternifolia Seed oil, Vitis Vinifera Seed oil, Simmondsia Chinesis Seed oil, Tocopherol, Citrus Aurantium Linne oil, Citrus Aurantium Dulcis Peel Oil
*As our products are made from natural ingredients, there may be a slight difference in fragrance, colour and consistency between batches. This is a natural occurrence and evidence that each product is made from the purest of ingredients and is lovingly handcrafted in small batches.
To best protect the lifespan of your precious products, please store in a cool, dry place below 30 degrees.
We use Miron and Violet glass bottles and jars to protect the delicate botanicals used within our formulas from molecular damage. This acts as a natural filter, and helps to preserve their wonderful healing properties.