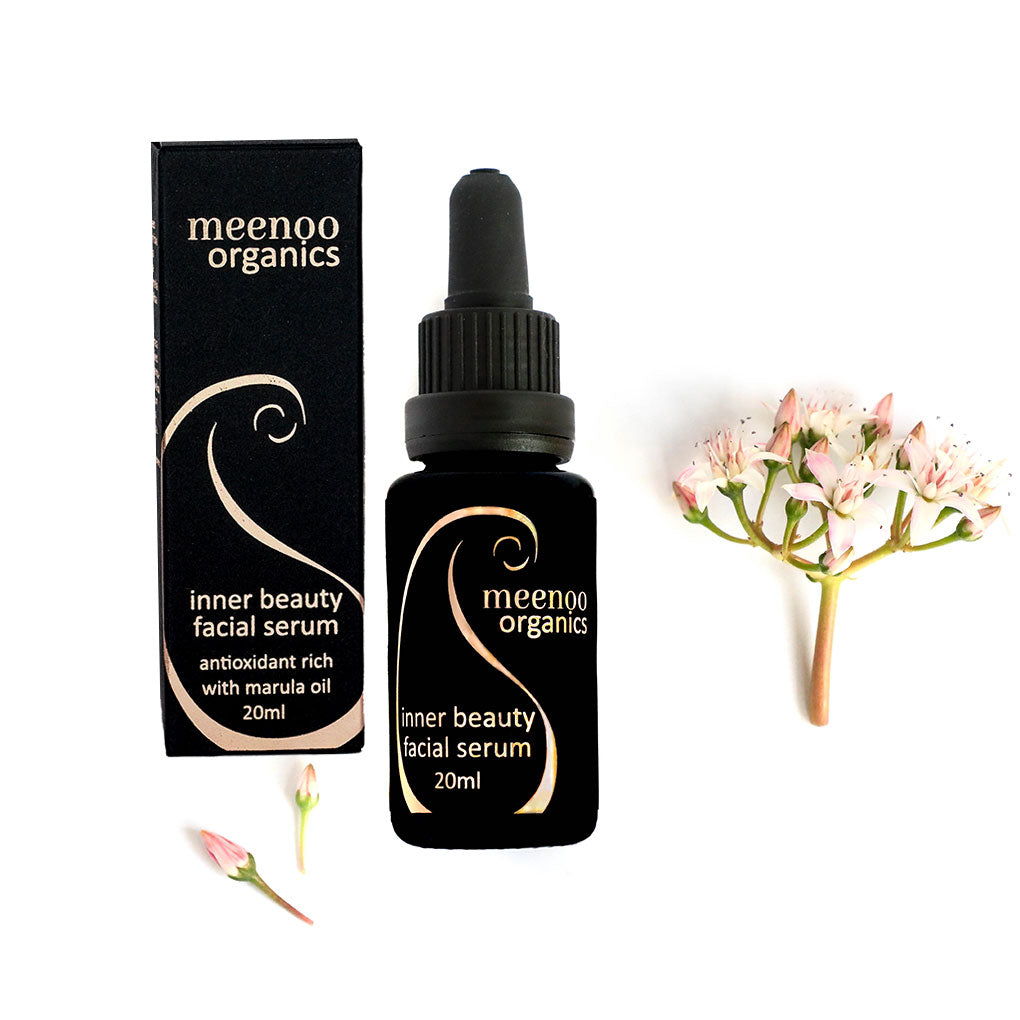 FREE SHIPPING (AUSTRALIA ONLY)

Meenoo Organics antioxidant rich Inner Beauty Facial Serum with Marula oil, is designed to penetrate the deeper layers of the skin to heal and nourish from within.
The serum combines the most nourishing oils with anti-inflammatory, anti-bacterial, anti-fungal and astringent properties, to help skin restore its balance and natural radiance. It will allow the skin to help heal itself from within, evening out skin-tone and helping it become clearer, firmer and supple.
With powerful ingredients including marula oil, jojoba oil and rosehip seed oil, each has been carefully selected due to its specific properties and benefits to the skin.
Restores, replenishes, balances and tones the skin. 
Rapidly absorbed.
Suitable for all skin types and particularly beneficial for normal to oily skin.
Vegan and cruelty free.
80% organic, 100% natural.
20ml.
Use the dropper to dispense the serum into the palm of your hand. You will only need 2 – 7 drops - depending on your skin type, weather conditions and if you are including your neck and décolletage. Rub hands together and massage onto cleansed face, noting that the product will absorb and spread much easier if the skin is a little damp.
Use morning and night instead of moisturizer and be sure to wait 5 to 10 minutes before applying makeup or any other product. This will allow the skin to absorb all the nourishing goodness within the product.
It is normal to have minor impurities come to the surface of the skin in the first couple of weeks. The serum will bring all the hidden impurities within the deeper layer of the skin up to the surface, in order to clear and heal.
*For external use only. If you are pregnant or breastfeeding, please consult your doctor before commencing use of any product containing essential oils. We recommend testing a small area on your skin first, and in the unlikely event of irritation, discontinue use and see a health care professional. 
Star Ingredients:
Marula oil – A rare powerhouse of an oil referred to by many as the 'elixir of youth,' it has antioxidant, anti-inflammatory and antimicrobial properties. The oil can help reverse sun damage, protect the skin from environmental toxins and it even boosts cellular activity.
Macadamia Nut Oil – A lightweight and easily absorbed oil that won't leave you feeling greasy. The oil contains fatty acids which have anti-inflammatory properties, and it has also been shown to improve the appearance of scars, sunburn, fine lines and other minor skin irritations.
Jojoba Oil – Actually a liquid wax which is closely reminiscent of our own sebum (a waxy substance produced by our skin glands) – it easily penetrates the skin to restore its elasticity and keep the skin naturally conditioned.
Tamanu oil – A precious oil which is perfect for sensitive skin, it also has the benefit of tightening and firming the skin, while protecting it from environmental stressors. It can be used to treat a vast array of ailments such as acne and acne scars, eczema, psoriasis, toenail fungus, stretch marks, age spots, skin rashes and general scarring.
Rosehip seed oil – A highly popular and versatile oil, it is full of vitamins, antioxidants and essential fatty acids that are known to correct dark spots and hydrate dry, itchy skin. It can also work to reduce scars and fine lines.
Full Ingredients List:
Sclerocarya Birrea Seed oil*, Macadamia Ternifolia Seed oil, Vitis Vinifera Seed oil, Simmondsia Chinesis Seed oil, Camellia Sasanqua Seed oil*, Rosa Rubignosa Seed oil*, Persea Americana oil, Calophyllum Tacamahaca oil*, Daucus Carota Seed oil*, Tocopherol, Lavandula Officinalis oil, Boswelloa Carteri oil, Pelargonium Graveolens oil, Citrus Aurantium oil, Melissa Officinalis oil
*Certified organic ingredients
*As our products are made from natural ingredients, there may be a slight difference in fragrance, colour and consistency between batches. This is a natural occurrence and evidence that each product is made from the purest of ingredients and is lovingly handcrafted in small batches.
To best protect the lifespan of your precious products, please store in a cool, dry place below 30 degrees.
We use Miron and Violet glass bottles and jars to protect the delicate botanicals used within our formulas from molecular damage. This acts as a natural filter, and helps to preserve their wonderful healing properties.