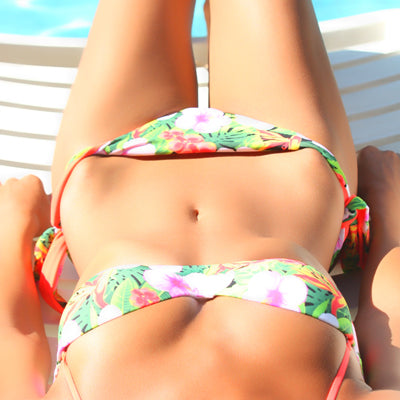 Summer is here and you can no longer hide your skin under a jacket or long pants, so this week we thought we'd share some of our top tips for great skin and give you some super simple, DIY exfoliant recipes to try.

Yay for freebies!

Did you know your skin is your biggest organ? Everybody knows lungs are for breathing and your heart pumps blood around your body, but what does your skin actually do? Besides, wanting it to look great, why do we need to bother taking care of it?

Your skin is your first line of defence against germs and toxins. It helps regulate your body temperature and protects against harmful UV rays. A positive side effect to healthy skin is (you guessed it!) radiant, glowing, younger looking skin.

Win-win, right?

So how do we achieve this glorious, healthy skin? By following five simple rules.
1 -Hydrate
Water is fundamental to life, and skin is an organ with cells primarily composed of water. If you deprive your skin of water, it suffers and cannot function well.

BUT there's more to it than that.

Your skin acts as a natural barrier that retains moisture. If this barrier's functions are disrupted, the skin may become dry and sensitive. If you don't consume enough water, your skin can't perform at its peak, leading to premature aging, and dry, sensitive skin.

When this happens, most of us try to counteract it by reaching for the moisturiser. Unfortunately, the downside of dehydrated skin is that it won't have the capacity to absorb the beautiful body moisturisers, oils and butters that you apply as well as it should, so all your good intentions of applying moisturiser after each shower are wasted to some degree.

Grrrr, right?

Now, don't get me wrong, I'm certainly not suggesting you do away with the moisturiser, but I am suggesting you ensure you have an adequate intake of water.

So, how much water is enough water? The short answer is … it depends. It depends on your age, gender, body weight, what season it is, the amount of exercise you get, whether you are pregnant or breastfeeding, and a range of other factors. Australian current dietary guidelines say 'drink plenty of water', but a general rule of thumb is around 2 litres of water for women and 2.5 for men.


2 – SPF – buyer beware!
Many of us have grown up with the message to apply sunscreen when outdoors, but did you know that the chemicals in your sunscreen could be damaging to you? There are three especially nasty ingredients in widely available sunscreens. Make sure you always check out the ingredients list for these toxins:

Benzophenone - high concerns in causing endocrine disruption
Oxybenzone - high concerns about causing biochemical or cellular level changes
Sulisobenzone - high concerns regarding irritation of skin, eyes, or lungs

Below is a link to a fantastic website that you can check out to research specific products and their ingredients. They are a non-profit, non-partisan organisation dedicated to empowering consumers, so you can make informed choices to protect your own health and that of the environment.
3 – Moisturise – not all moisturisers are created equal!
Moisturise, moisturise, moisturise … but why?

From the morning shower that depletes your skin's moisture, to the dust and smog that your skin has to filter when you are outside, and the sun and wind damage that dries your skin, your day-to-day activities have a significant effect on your skin.

To keep your skin healthy, it's vital that you moisturise after each shower. The right moisturiser will help restore your skin's oils, lock in moisture, assist healing of tiny fissures in your skin, and create a layer of soothing protection from damaging environments. Oh, and of course all these make you look YOUNGER! Not bad, huh?

Our award-winning Orange Blossom Body Oil contains all the things you need in a moisturiser. A beautifully refreshing, light moisturiser perfect for the summer months, it has been carefully formulated with 100% natural ingredients to assist in nourishing the skin with hydrating, toning and balancing properties. It is the ideal formulation to help reduce scarring or stretch marks and works well with all skin types. It will leave your skin feeling soft, hydrated and nourished, with a subtle scent of orange blossom.

An essential addition to any summer beauty kit, the Orange Blossom Body Oil has won a 'Highly Commended' award in the Body Lotion Category of the Nature & Health 2019 Natural Beauty Awards. Check out this fantastic body oil HERE

It also makes a great Christmas gift!
4 – Exfoliate – two super easy DIY recipes for you to try!
If you don't regularly exfoliate your face and body your skin's pores can get clogged, making moisture absorption a lot harder, particularly to the deeper layers of skin.

Using a face and body scrub once a week will not only leave your skin feeling silky smooth but will also stimulate blood flow and the overall tone and health of your skin.

Here are a couple of our favourite recipes for an all over body/face exfoliant.

Sweet cacao scrub
1 cup brown sugar
½ cup sweet almond oil (you can also use olive oil, avocado oil, coconut oil, macadamia or a mix)
1 teaspoon unsweetened cacao powder
¼ teaspoon vanilla extract
¼ teaspoon vitamin E oil (optional, but great antioxidant)

Flower Power scrub
1 cup white sugar
½ cup olive oil (you can also use almond oil, avocado oil, coconut oil, macadamia oil or a mix)
5 drops lavender essential oil (*make sure they are real essential oils and not fragrance oils)
5 drops Ylang Ylang essential oil*
5 drops Geranium essential oil*
¼ teaspoon vitamin E oil (optional, but great antioxidant)

To apply, take a small amount (about a spoonful) and gently rub onto your face and body using circular motions. (Be careful if using in the shower, as the oils used may make the floor slippery.) Rinse with cool water and moisturise well.

These scrubs should last at least 4 to 8 weeks in your bathroom cabinet. Avoid getting water in the product so it will last longer.
5 – Nutrition – what goes into your body is reflected in your skin
Okay, let me tell you the best kept beauty secret. You guessed it – maintaining a nutritious diet. It works wonders on your skin. Good food can help minimise wrinkles, acne, inflammation and a whole host of other skin-related conditions.
So, what should you eat?
Fatty fish, e.g. salmon
Oily fish are rich in omega 3 fatty acids, vitamins and antioxidants that assist with:
• keeping skin supple
• guarding against wrinkle formation
• calming and regulating inflammation,
• protecting your skin from free radical damage and inflammation
• maintaining the strength of your skin
• producing new skin cells
• overall skin health
Avocados
Rich in vitamin A and E. When these two vitamins are combined, they help prevent certain skin cancers. Avocados are also rich in vitamin C, which helps create collagen, thereby reducing fine lines and making the skin look more youthful.
Walnuts and sunflower seeds
Rich in selenium (an antioxidant that helps with skin firmness and elasticity), they help prevent acne and skin cancer. Also, rich in zinc, which helps repair damaged tissues, heals wounds and protects the skin from UV rays.
Sweet potato
Rich in Vitamin A - essential for skin repair and maintenance, and Beta-Carotene - an antioxidant that helps reduce free radical damage from sun overexposure.
Bell peppers
Rich in Beta-carotene and vitamin C, both important antioxidants for the skin. They are also necessary to create collagen and structural protein which helps your skin stay younger.
Broccoli
This is a super food, rich in pretty much everything good! It contains all kind of vitamins, minerals and carotenoids that are important for good skin health. Here's a tip - if we were only to eat one vegetable for our entire life, THIS should be it!
Tomatoes
Rich in all the major carotenoids especially lycopene, which protects the skin from UV damage and may prevent wrinkles.
Eggs
Rich in a fantastic range of almost all nutrients the human body requires. Eat lots of these little pocket powerhouses of goodness!
Is all this talk about food making you hungry? Why not whip up a yummy, super skin food salad? Just add all the above to a bed of baby spinach and you will do wonders for your body.
But what about dessert I hear you say. We've got that covered too. Yes – dessert! It can be good for the skin too! Well, if you like dark chocolate as much as we do, it can.
Dark chocolate (70% or above)
Rich in flavanols and polyphenols, a rich antioxidant, which can help your skin withstand a higher amount UV.
Green tea
Rich in polyphenols, also a rich antioxidant and anti-inflammatory it can help treat acne, blemishes and scars, and flushes out toxins.
Phew! That's a lot of information to absorb, so let's recap.
The top five tips to healthy glowing skin are:
1. Hydrate (drink plenty of water)2. Apply sunscreen (check the ingredients in yours)3. Moisturise (not all are created equal)4. Exfoliate (2 super easy, luscious DIY scrub recipes for you!)5. Eat well (what goes into your body is reflected on the outside of your body)
Like so many things in life, looking after your skin is a holistic approach. Just doing one thing right will not magically give you perfect skin; it is a combination of all. I hope these tips have given you the knowledge and inspiration to improve your skin.
That's it from us for now. As usual, if you have any questions or just want to say hello, drop us an email at abby@meenooorganics.com.
Much love
Meenoo Organics